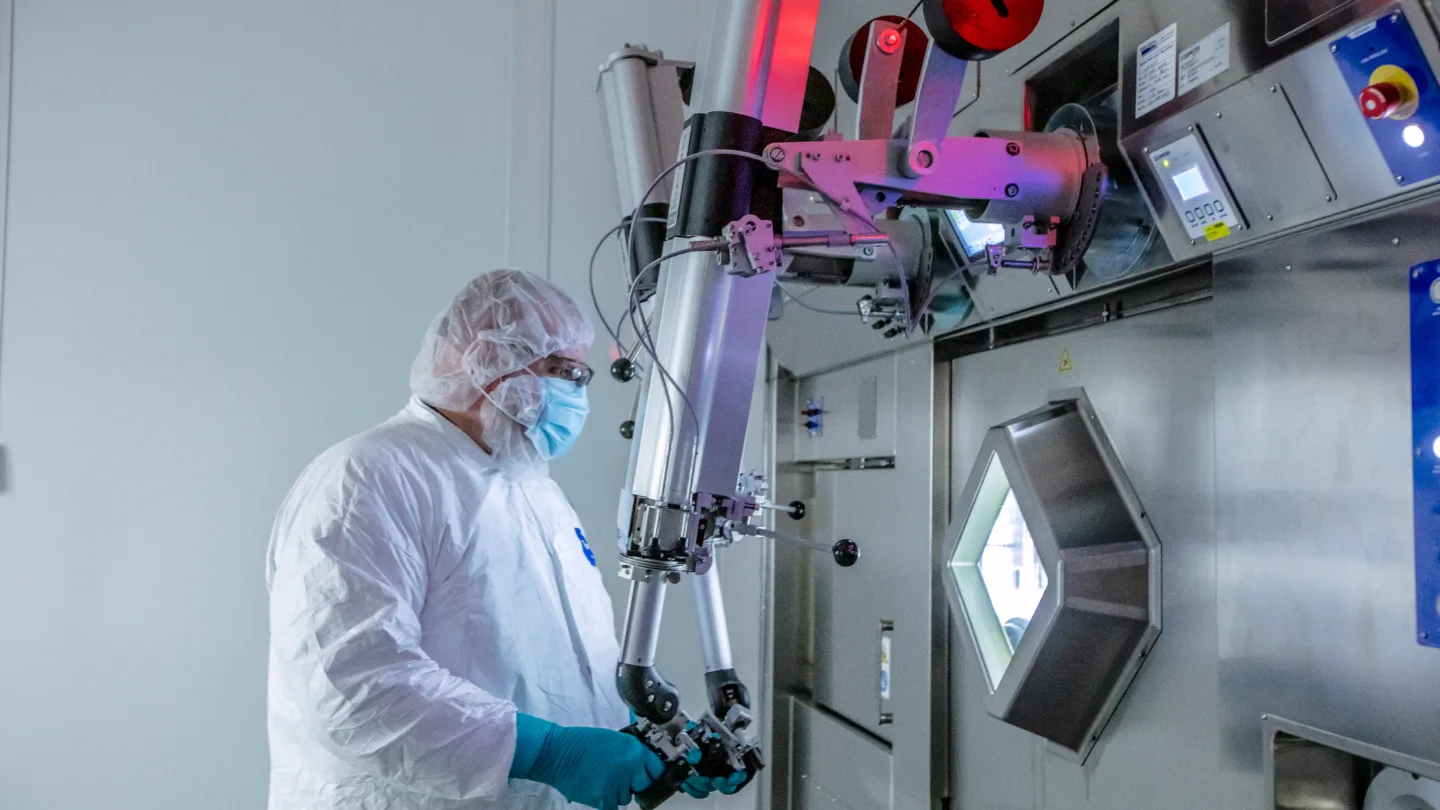 Originally posted on Crain's Detroit by Tom Henderson
BAMF Health Corp. is not a typical high-tech startup. Its official grand opening in the just-opened Doug Meijer Medical Innovation Building in downtown Grand Rapids isn't until later this month at a date yet to be determined, but it has already raised $79.2 million in a combination of debt, equity and grant funding, including a grant of $19.5 million from the Meijer Foundation.
More atypical, BAMF — an acronym for Bold Advanced Medical Future — is about to embark on a funding round that CEO Anthony Chang hopes will reach $300 million to help finance an ambitious expansion program meant to break ground next year on new brick-and-mortar cancer-treatment facilities in metropolitan Detroit and cities in California, Texas and Florida.
Chang said it is hard to retrofit the latest in cancer diagnostic and treatment equipment into existing buildings and estimates the cost of new construction at $60 million to $80 million per site.
Each location must house large full-body scanners to detect cancer, machines that cost $17 million apiece and cut the scanning time for a patient from 40-45 minutes to about three; a series of lead-lined treatment and recovery rooms; and a cyclotron to allow the in-house pharmacy to make a variety of radioactive drugs to be injected into patients.
Chang wants to follow those cancer treatment centers with ones in Chicago, Philadelphia, Nashville, Phoenix, Denver and Seattle. Previously, he held a variety of positions at the Van Andel Institute in Grand Rapids.
BAMF is the anchor tenant in the seven-story building, which finished construction this year. The company occupies 60,000 square feet of the building's 205,000 square feet. It is the first and only company in the U.S to have gotten permission from the U.S. Food and Drug Administration to treat stage four and end-of-life prostate and neuroendocrine cancer patients with what is called PET/CT technology, a nuclear imaging process that finds cancer cells that are later attacked by small amounts of radioactive pharmaceuticals.
"PET" stands for positive emission tomography, and "CT" stands for computed tomography, which uses artificial intelligence to produce images of the area to be targeted. Nuclear medicine is noninvasive and generally painless and involves the use of radioactive material in tiny quantities.
Previously, only one health care center in the world conducted such cancer treatments, the Theranostics Center for Molecular Radiotherapy and Molecular Imaging in Bad Berka, Germany. "Theranostics" combines the terms "therapeutics" and "diagnostics."
Dr. Harshad Kulkarni, BAMF's chief medical adviser, was recruited in July from the German center, where he was a physician and senior consultant.
BAMF grew out of treatment for prostate cancer Doug Meijer got at the German center in 2017. BAMF was formally founded in 2018, and Chang was hired to begin the long process of raising money, recruiting doctors and scientists and getting federal approval. It has grown its headcount from three then to about 80, now, including software teams in Kosovo, Singapore and the Philippines, with plans to be at about 100 by the end of the year.
When the Meijer Foundation approved the grant of $19.5 million in October 2019, Meijer said: "The Meijer Family has always been passionate about health care and I am thankful to have the ability to carry that passion forward. (This) will help save lives and improve the quality of life for many people through remarkable cancer fighting technology. Patients will no longer have to travel overseas to receive needed treatment. I am living proof this technology works."
Prostate cancer is the second-most common cancer among men in the United States. According to the American Cancer Society, more than 268,000 men in the U.S. will be affected this year by prostate cancer and nearly 35,000 will die from it, making it the second leading cause of death behind lung cancer. More than one in eight men will be diagnosed with the cancer in their lifetimes, most 65 or older.
BAMF began diagnosing its first nine patients on July 27, using for the first time in the U.S. a PET scanner called the uEXPLORER, which was made by Houston-based United Imaging Healthcare Co. Ltd. and was installed in May, and a radioactive tracer called Illuccix, made by Telix Pharmaceuticals Ltd. of Melbourne, Australia.
Chang said more than 20 patients have been scanned, now, "and we have a large waiting list."
According to BAMF officials, there are 15 of the scanners in the world.
Following the PET scans, BAMF treated its first patient on Aug. 3, using a radiation therapeutic made by Novartis called Pluvicto, which upon injection delivers radiation directly to tumors and minimizes damage to surrounding cells.
The uEXPLORER is the only medical imaging 3D scanner in the world capable of capturing the total human body in a single bed position. Not only does cutting scanning time down to three minutes or so make things much easier on the patient, it allows the treatment center to do far more scans a day and generate far more revenue.
Telix launched Illuccix for prostate cancer imaging in April in the United States and has a pipeline of imaging and therapeutic agents in development to potentially detect and treat a range of cancers and rare diseases through targeted radiation. Illuccix's active radioactive diagnostic agent is an isotope of gallium.
Telix's pipeline of diagnostic and therapeutic agents dovetails with Chang's plans for BAMF. While the company's FDA approval currently allows only for the treatment of late-stage prostate and neuroendocrine cancer patients, Chang has begun inviting pharmaceutical companies to engage in human trials at BAMF and eventually hopes to win FDA approval to treat earlier-stage patients with all forms of cancer, as well as such illnesses as endometriosis, Alzheimer's and Parkinson's.
The company has begun inviting global radiopharmaceutical manufacturers to come tour its facilities and hopes to start some trials later this month. "We have several commitments for starting trials already," said Chang.
Ron Foster, a 78-year-old who has been fighting prostate cancer since he was 50, was one of the first nine men to get treated in Grand Rapids.
Over the years, he has been treated at the Mayo Clinic in Minnesota, the MD Anderson Cancer Center in Houston and in the German center that treated Meijer.
"Everything seems to be working fine," Foster said by phone three weeks after his treatment from his home near St. Augustine, Fla. "I feel good, there's no big side effects."
He is scheduled to return to Grand Rapids for a second treatment in mid-September.
"Amazing is the word to use talking about it," Foster said of the rapid scan and follow-up therapy. "There's no cure but you can manage it. I'm optimistic, hopeful and happy. I've been dealing with this for years and glad to still be fighting it."
One local investor is the Nottawaseppi Huron Band of the Potawatomi, a federally recognized tribal government with about 1,650 members and the Pine Creek Indian Reservation near Athens, Mich. The tribe opened the FireKeepers Casino Hotel in Battle Creek in 2009, and two years later formed the Waséyabek Development Company LLC to diversify tribal income from a reliance on gaming.
Waséyabek — the name means "a new day's light" in the Potawatomi language — has grown to nearly 450 employees and has 23 subsidiaries across the U.S. The investment in BAMF came from the development company.
Diedra Mitchell is Waséyabek's president and CEO. She said she sits on a CEO council of the Grand Rapids Chamber with Chang, and about a year and a half ago had a conversation over dinner with him about his plans for BAMF.
"I was like, 'Wow!'" she said. "The only ones doing this were in Germany, so it's amazing to see what they have been able to do. They've made a tremendous amount of progress in six months."
She said the development company wrote its check a year ago and has yet to decide on whether to participate in the next funding round but said: "Their expansion plans and scalability are quite wonderful. What's really important is who they are. They are really dedicated, heartfelt people. That really stands out."
Another investor is Red Cedar Ventures, an investment arm of the MSU Foundation in East Lansing.
"We are excited to support BAMF Health on their next steps toward growth and expansion," said Jeff Wesley, Red Cedar's executive director. "BAMF Health is tackling cancer diagnosis and treatment at an exceptional level, and on behalf of Red Cedar Ventures, we are beyond grateful to be in partnership with their team as they continue to collaborate with Michigan State University as a disruptive and innovative player in the health care industry."
The Doug Meijer Medical Innovation Building is one of four buildings MSU has developed along what Grand Rapids bills as the Medical Mile. While BAMF was the beneficiary of the cyclotron and other equipment paid for by the Meijer grant, it was formally made to the MSU College of Human Medicine.