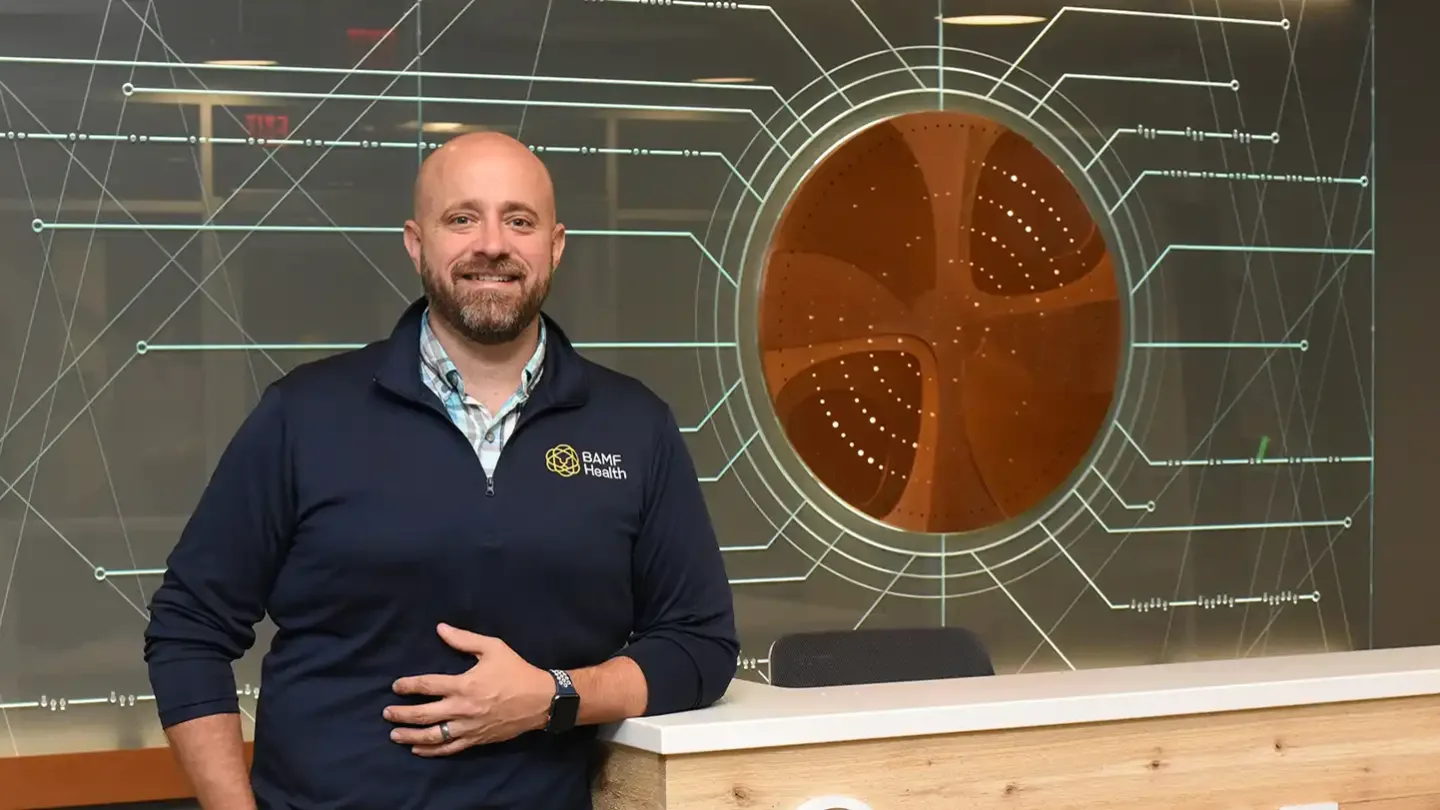 Originally posted by Ferris State University In Your Community
Ferris State University Doctor of Pharmacy alumnus Matt DeLong has joined fellow alums to support a new cancer diagnosis and treatment era with global interest and impact at the recently established BAMF (Bold Advanced Medical Future) Health on Grand Rapids' "Medical Mile."
DeLong is BAMF's vice president of Radiopharmacy, and a Ferris State Class of 2009 graduate who joined the management team in summer 2020. That coincided with the early development of its treatment center in the Doug Meijer Medical Innovation Building, part of Michigan State University's College of Human Medicine.
"I had 11 years of experience as a nuclear pharmacy manager with Cardinal Health in the Cincinnati, Ohio area," DeLong said. "The opportunity to launch a radiopharmacy program in Grand Rapids, building this aspect of BAMF's operation from the ground up, was very exciting to me."
DeLong's journey to this leadership role began as a high school student.
"I knew healthcare was the career path for me, with pharmacy being an appealing direction," DeLong said. "I worked at an independent pharmacy and began my postsecondary education at a community college. Ferris' stature as an institution and its history in pharmacy got my attention, and it has proven to be a great choice in shaping the direction and success I have enjoyed in my career."
Guest lecturers offered insight to Ferris State Pharmacy students on potential career directions, and DeLong took a particular presentation to heart.
"A nuclear pharmacist came in to explain their profession, which interested me very much," he said. "I decided to do a month-long rotation focused on radiopharmacy, which showed me that there was a great impact in providing patients with radioactive medication in targeted therapy. Their cases had not responded to conventional treatment. It proved to be an exciting and unique challenge to administer agents with short half-lives and provide patients improved outcomes and prospects for recovery."
DeLong said he has built his knowledge base since earning his PharmD degree from Ferris State to follow best practices for handling and administering diagnostic and therapeutic compounds.
"The appropriate phrase for our practices at BAMF is theranostics. That's where molecular imaging and targeted molecular radiation therapy are applied in diagnosis and treatment," DeLong said. "This emerging medical field means you see what you treat and treat what you see. Damage to healthy tissues is minimized or avoided entirely. We opened in fall 2021, with our first treatment of patients beginning late summer of last year."
DeLong noted great satisfaction and obligation in his leadership role with the BAMF team.
"Novartis, the Swiss global healthcare company, recently introduced Pluvicto (lutetium Lu 177 vipivotide tetraxetan) and Lutathera, with the same radioactive molecule, which is now part of BAMF's treatment regime," DeLong said.
"They attach to the cancer cell with an isotope. So, the therapy is systemic, causing cellular damage to the tumor without collateral damage to the patient. These treatments have energized the entire community. We are always watchful for the latest advances and treatments."
BAMF is seeing patients from across the country. There are conversations now about adding a facility in Detroit, to be followed by locations in other states. DeLong said there is a significant contribution from Ferris State alums as staffing grows at the global headquarters in Grand Rapids, where they perfect a blueprint their management team hopes to replicate for improved care to save more lives.
"The building developer had a Ferris alumnus as a site superintendent. A Bulldogs imprint was established here early on," DeLong said. "The alumni working with BAMF include scientific disciplines, like Chemistry and Nuclear Medicine. It is notable that the head of our Food and Drug Administration Quality system has a Bachelor of Science in Clinical Laboratory Science and a Master of Public Health from Ferris. We also see operational benefits from a Kendall College of Art and Design's Interior Design program graduate," DeLong said. "It is a diverse background of Bulldogs who significantly contribute to our success."
DeLong said BAMF focuses on serving as a community asset, where offering access and opportunity to patient treatment and clinical trials is a top priority. DeLong is open to conversations on serving as an adviser or mentor if the center proposes internships.
"It has been good being back in the region these last few years," DeLong said. "Ferris has a very important role in my learning and career success. I could be receptive to serving my college or helping to develop opportunities for current students when possible."