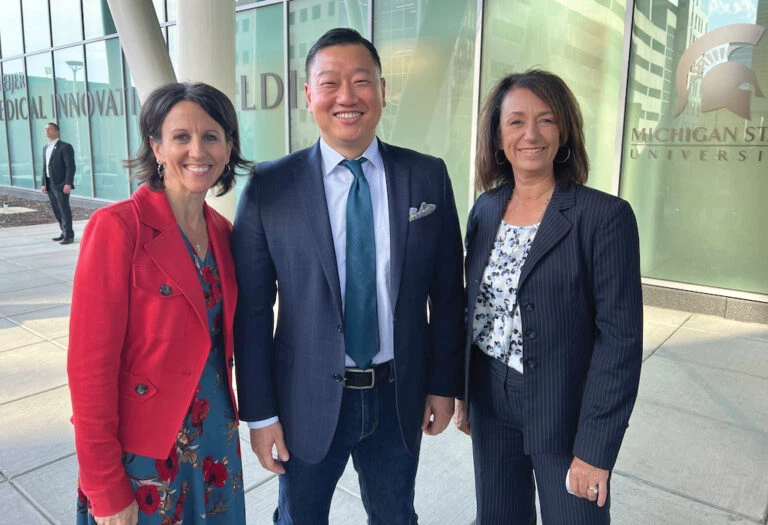 Originally posted on Crain's Grand Rapids by Mark Sanchez
A new partnership aims to support cancer patients and their families who come to Grand Rapids for advanced, high-tech treatment at BAMF Health.  
BAMF Health's opening last year in downtown Grand Rapids led to a connection with the New Day Foundation for Families, which provides financial and emotional support for cancer patients and their families across Michigan. 
Under the partnership, the New Day Foundation supports cancer patients and their families receiving treatment in Grand Rapids at BAMF Health, providing services ranging from counseling and assistance with health insurance deductible to helping with groceries, utility bills and housing. 
"Beating cancer is more than medicine," said Julie Nemeth, the director of development and partnerships at Rochester Hills-based New Day Foundation. 
"We're in this together with the science and the care," Nemeth said. "If you have the best in cancer treatment and the best in cancer support, our families battling cancer have two times the ability to 'beat the beast,' is what I say. They need both of those systems to defeat cancer." 
BAMF and the New Day Foundation are "working on multiple levels" as they put their partnership together, and "will have a lot more to talk about in the future," Nemeth said. 
"We're working together to create the model to show the nation and to show the world what true patient-centric cancer treatment looks like together, treatment and support," Nemeth said. "We're going to be setting the model. The relationship between BAMF and New Day Foundation is the ultimate model for cancer treatment and supporting the best interests of the patient." 
Shared vision for patients
The foundation connected with BAMF Health last fall when Nemeth and co-founder and President Gina Kell Spehn were in Grand Rapids. A friend of Nemeth introduced her to BAMF Health Chief Operating Officer Chad Bassett. 
After having a meeting canceled that day, Bassett had an open hour in his schedule and quickly arranged for Nemeth and Kell Spehn to tour BAMF's facility in downtown and introduced them to company founder and CEO Anthony Chang. 
They quickly found they shared a common goal and could complement each other's work. 
The New Day Foundation can "help us treat the whole person and help that person be in the right state of mind to receive the care as well," Bassett said. 
"Our approach is always trying to have the patient be a person and it's really hard to be a person when you're sick and focused on being the patient," he said. "They're a puzzle piece to treat the full individual. We're focused on providing the leading clinical care (and) the leading cancer care. 
"They're able to continue where we're not able to or where we're not set up to, and that's to make sure that person's whole life is focused on healing … and not have them focused on all of those other daily realities of life that become that much harder when someone is facing a life-threatening illness."' 
BAMF Health has treated patients who were struggling with costs and needed financial assistance, Bassett said. The company was seeking out resources to support patients when Basset and Chang serendipitously met Nemeth and Kell Spehn. 
"It was love at first site," he said of their meeting last fall. "We have a real shared vision. We provide the medical care and they fill in where patients need it in their lives." 
The New Day Foundation partners with 70 hospitals and cancer centers across Michigan. Case managers at partnering care providers refer cancer patients for assistance using an online application portal. 
Foundation staff will then do an intake call with families to determine how to address widely varying needs, Kell Spehn said. Patients range from single parents to larger families. The foundation works with clients for an average of three months during treatment and can help them access social service agencies for further assistance, she said. 
In providing financial assistance, the New Day Foundation can, for example, ease the burden from lost income for an individual or a family during treatment and "make sure the families are not falling through the cracks of the system," Kell Spehn said. More than half of the people the foundation supports are single parents. 
Kell Spehn cites data from a Michigan Association of United Ways study that indicates 1.5 million Michigan households, or 39%, struggle to afford necessities such as housing, child care, transportation and health care and lack the ability to withstand a financial hardship. 
"We are here to bridge the gap for families," she said. "What we're doing really is leveling the playing field." 
The foundation also has a network of behavioral health care professionals that can work with both patients and their families to ease the emotional trauma that often accompanies cancer treatment. 
'Just a blessing'
Chang created BAMF Heath in 2018 to bring to the U.S. medical technology that had been used successfully in Germany to treat cancer patients. 
BAMF Health's opened its first theranostics clinic in Grand Rapids last summer at the $40 million Doug Meijer Medical Innovation Building at Michigan State University's Grand Rapids Innovation Park research campus. 
The clinic uses high-speed medical scanners, radiopharmaceuticals for molecular imaging and artificial intelligence to provide an advanced cancer treatment that can diagnose and precisely target radiation therapy for tumors, all of which allows BAMF Health to customize treatment to each patient. The treatment avoids the side effects that often accompany traditional radiation therapy. 
Chang envisions opening several clinics across the country over the next three to five years, including in Detroit and at Loma Linda University in California. 
BAMF Health started treating men with advanced prostate cancer last year and plans to expand to treating other forms of cancer. 
The partnership between BAMF Heath and the New Day Foundation "is only in its infancy," said Kell Spehn, who lost her husband and two in-laws to cancer and has a 22-year-old son who survived cancer as a teenager. 
Founded in 2007, the foundation started slowly in Southeast Michigan and spent the first five years "behind closed doors," she said. Kell Spehn then worked over the next five years to build connections with hospitals and "things have really taken off" in the last five years, she said. 
New Day assisted 800 families in 2022 alone, compared to 456 in 2021. 
In West Michigan, the New Day Foundation has "touched the lives" of 1,300 to 1,400 people over more than a decade and invested $750,000 in programs for cancer patients, caregivers, spouses and children in the region, Kell Spehn said. In addition to the financial and emotional support, the foundation also aims to direct cancer patients to clinical trials that BAMF Health conducts. 
From Grand Rapids, the New Day Foundation also wants to reach out into rural communities. 
In BAMF Health, Kell Spehn found a welcoming partner that fully embraces the New Day Foundation's mission. BAMF Health now provides the foundation free office space in Grand Rapids. 
"When I walked into this place, I knew something was different immediately," she said. "Having BAMF by our side, it's just a blessing."